Construction Skills Queensland (CSQ) Funded Training now available
Best Option Training is proud to have been selected as one of a core group of RTO's that will be delivering Construction Skills Queensland-funded training in CSQ's new training year (from October 1 2021). Best Option Training is contracted to deliver the SAGT and Higher Qualifications program.  Eligibility outlined on this page is relevant to the SAGT program.
We look forward to supporting individuals and businesses unlock new opportunities in the building and construction industry through training.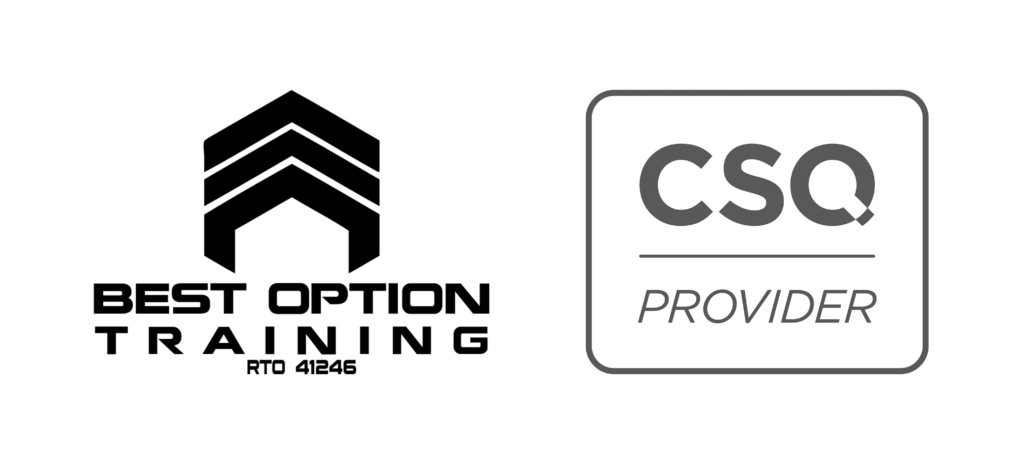 CSQ-funded training
Construction Skills Queensland is an independent, not-for-profit, industry funded body supporting employers, workers, apprentices, trainees and career seekers in the building and construction industry.
CSQ provides funding to reduce the financial obstacle to training, making upskilling an affordable option for many more individuals in the construction industry.
CSQ-funded training is delivered by a range of selected registered training organisations (RTOs) across Queensland.
CSQ contributes towards the cost of courses to reduce the cost to participants. CSQ funding is paid directly to the contracted RTO, generally between 75% and 100% of course costs. Best Option Training has decided on a $400 non-refundable admin fee.
It is important to note that only eligible participants may receive CSQ funding for eligible courses.
Eligible participant means:
1. a participant who has the right to work in Australia and is an eligible worker or unemployed eligible worker in Queensland.
AND MUST
2. be able to demonstrate RPL experience in 70% or more competencies required to complete the full qualification.
AND MUST NOT
3. be an apprentice or trainee
4. through direct credit, achieve more than 50% of the minimum number of units required to complete the qualification
5. be an employee of an Authority (Employees of Local Councils are acceptable)
6. be currently enrolled and participating in a Queensland secondary school program
7. be a contracted trainer or assessor or existing worker of an RTO
8. be funded by an Authority or such other source for delivery of the same Training being undertaken as part of this program
9. be those Participants seeking a Verification of Competency (or Determination of Competency) services under this agreement.
VERTO: Skills Checkpoint for Older Workers Program and Skills and Training Incentive
This information is also available on the VERTO website.
Information for participants:
The Skills Checkpoint for Older Workers Program (Skills Checkpoint) and Skills and Training Incentive (the Incentive) are initiatives to help older Australians through career advice and guidance and investment in training to adopt a life-long approach to skills development to stay employed longer.
Who is eligible?
To participate in the Skills Checkpoint, you must be:
an Australian Citizen or permanent resident
aged 40 to 70
currently employed and at risk of entering the income support system or
unemployed within the last nine months and not registered with an employment services provider.
To access the Incentive, you must first complete a Skills Checkpoint assessment that identifies training linked to your current job (e.g. upgrading skills), a future job opportunity, or an industry, occupation or skill in demand.
What does the Skills Checkpoint offer?
The Skills Checkpoint offers tailored skills assessment, advice on transitioning into new roles, upskilling in your current role or industry, pathways to a new career, and referral to relevant education or training.
What can I expect?
You will meet with your Skills Checkpoint provider so they can get to know you and understand your needs. You will then undertake an individually tailored skills assessment.
Your Skills Checkpoint provider will use this information to develop a Career Plan to identify:
your current skills
gaps in your skills to move to a new career or
undertake a new role in your current occupation
skills you could develop or improve to increase your capacity to perform your current role.
Your Skills Checkpoint provider will talk with you about your Career Plan and where relevant, will suggest potential new industries or roles where there may be job opportunities, and make recommendations and referrals to relevant training.
What assistance is available to help with the cost of training?
If your Career Plan identifies that you would benefit from further training, you will be eligible to access the Incentive. The Incentive provides up to $2,200 (GST inclusive) to fund either accredited or nonaccredited training.
You or your employer must match the government contribution.
Contact Best Option Training to learn more.
[contact-form-7 id="86″ /]